Mixed martial arts (MMA) is one of the fastest-growing sports in the world, and the Ultimate Fighting Championship (UFC) is the premier MMA organization. The UFC has a long history with Las Vegas, and UFC-themed slot machines have been common in brick-and-mortar casinos for a long time. Surprisingly, however, this UFC Slot game is the first UFC-themed video slot machine ever. The good news is that it delivers and incorporates many of the elements that have made past physical versions so popular.
If you're a fan of the UFC – then you'll enjoy the sites and sounds of this game. And one of the coolest features of the game is the ability to pick your favorite fighter from a list of 12 UFC fan favorites. Your fighter's symbol will then become the wild symbols for the game!
>> Play UFC Slots for real money! Click Here! <<

>> Visit PaddyPower Games to play UFC Slots for real and you could get a random free bet of up to €25,000! <<
| | |
| --- | --- |
| Reels | 5 |
| Paylines | 20 |
| Bonus Round | 2 Bonus Games |
| Free Spins | No |
| Wild Symbols | |
| Scatter Symbols | |
| Bonus Game Symbols | |
| Progressive Jackpot | No |
| Software | Endemol Games |
| We Recommend Playing this at | William Hill Casino |
UFC Slots
UFC Slots is a polished and good-looking game. To create the symbol set, the developers have used real-life images of UFC fighters like Georges St-Pierre and Ronda Rousey and even octagon girls like Arianny Celeste. Other visual elements look as if they've been lifted straight from the UFC website, which isn't a bad thing, and the music will be familiar to anyone who has watched a UFC event. The sound effects, on the other hand, aren't bad but are similar to the effects on countless other video slot machines.
UFC Slots is a fast-paced video slot experience. It has five reels and 20 pay lines, and the player can choose the number of win lines to play each spin.
What sets UFC Slots apart from other spins is that the player chooses one of 12 UFC fighters, and this is essentially the player's "horse" for that spin. The player can opt for a new fighter each spin or can simply set it once. Whenever your player symbol wins, you'll see your fighter
The game allows one coin per bet line, and coins range from 0.01 to 25: The minimum bet is 0.01, the minimum bet to cover all lines is 0.20 and the maximum bet is 500. Once you've set the stake and chosen a fighter, click Spin or use the Auto Spin feature to automate up to 25 spins at a time.
UFC Golden Wild Expanding Bonus
The first special feature available is the Golden Wild symbol, which launches the Expanding Wild feature. How this works is if you hit the Golden Wild symbol – which will be the fighter you're playing with the golden "Wild" tag on it – anywhere on the center reel, then the Expanding Wild mode will activate.
The Expanding Wild feature will randomly make 4 other symbols become wild symbols. The Golden Wild symbol itself will also act as a regular wild symbol – meaning you will have at least 4 wild symbols on the board. You will then get paid on all winning paylines!
I played as the heavyweight champ Cain Velasquez and this is what it looked like:
UFC Fight Night Bonus Game
If the UFC belt symbol appears on the first, third and fifth reel, it launches the Fight Night bonus. The Fight Night Bonus game pits your fighter against another opponent.
UFC Fight Night Bonus Game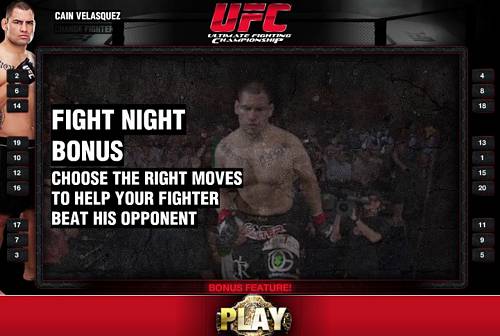 You'll first see a video of your fighter entering the Octagon. Let's get it on!
Both fighters start with 100% Stamina. You then spin the wheel to determine the fighting move that will occur between the two opponents.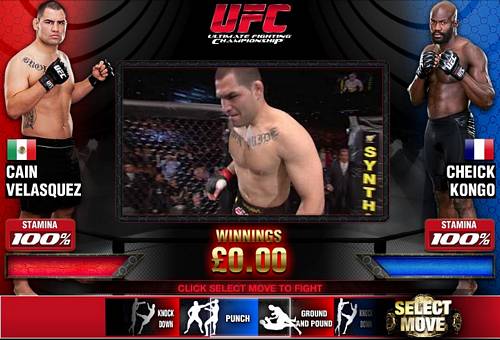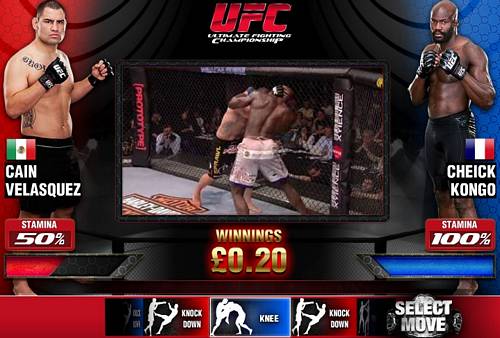 My first spin ended on the Knock Down move, which then showed a video snippet of Cheick Kongo (my opponent) putting Cain Velasquez down on the mat. That move cost me 50% of my Stamina, leaving me with 50%. I then was able to spin the move wheel again.
The second spin gave me the Knee move. Another video snippet played show Cheick Kongo kneeing my fighter, knocking down my stamina to 17%.
My third spin gave me the Punch move. Once again a short video played showing Cheick Kongo punching Cain and my Stamina dropped to 0%. Each move paid me winnings but I could've earned more if my fighter actually delivered any damage or won the fight.
Of course, in real life, Cain Velasquez would destroy Cheick Kongo!
UFC Training Bonus
There is another bonus, the Training Bonus game, which launches when you hit the two fists bonus symbol anywhere on the second, third and fourth reels. The Training bonus starts by selecting a card, which reveals a training partner for the player's chosen fighter for that spin. If the player wins the training session, he earns free spins, and then gets to attempt another session. This cycle continues until a training session is lost.
UFC fans will have a blast playing this slot game. Click here to play UFC Slots at PaddyPower Games and earn your random free bet of up to €25,000!
If you like the UFC and reside in the U.S. or Canada, we recommend trying out fantasy MMA at DraftKings! Create a fantasy lineup for every UFC event and compete in real money contests! Learn more about DraftKings here and find the latest DraftKings promos here!